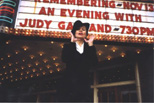 The show has been performed in Nashville, TN, Columbus, OH, Naples, FL, and Lafayette, IN - just to name a few locations. It was written and performed by CONNIE FREEMAN PRINCE. It's a musical and emotional roller coaster ride, bringing JUDY GARLAND's soul and spirit to life, as well as her physical presence and performance.

Complete with costume changes, and JUDY's signature props (from trunk, to the screen she changes clothes behind, as she banters with the audence about her MGM days), this "EVENING WITH JUDY GARLAND" is filled with a variety of intimate, dramatic monologues - interpersed with fun and jest with her musical accompanist, JEFF BOWEN (portraying Garland's true-life musical accompanist MORT LINDSEY, and pinch-hitting for MICKEY ROONEY). All of this is tied together with a shining musical ribbon running passionately through it - the songs that JUDY was known for.
"Remembering...An Evening With Judy Garland" premiered on June 22, 1999 at Nashville's Bongo Java. It was precisely the 30th anniversary of her death. Since that performance, the show has grown along with the number of performances and cities where the production has been done.
This hour and a half musical-drama has been performed at various locations around the country. Audiences in Nashville, Tennessee, Naples, Florida, Columbus, Ohio (just to name a few) were on their feet as the final notes were being played and the 'real-life' Judy was taking her bows.

Connie Freeman Prince touches the audience with the very essence and soul of Judy Garland. She has done, and continues to do extensive research on the life and music of Judy Garland. This is more than evident as you watch the spectrum of emotions of Judy Garland come to life on stage - and hear the songs sung as though Judy herself is back to entertain us.
---