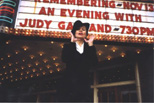 Written and performed by CONNIE FREEMAN PRINCE. This musical and emotional roller coaster ride brings JUDY GARLAND's soul and spirit to life, as well as her physical presence and performance.

Complete with costume changes, and JUDY's signature props (from trunk, to the screen she changes clothes behind, as she banters with the audence about her MGM days), this "EVENING WITH JUDY GARLAND" is filled with a variety of intimate, dramatic monologues - interpersed with fun and jest with her musical accompanist, the versatile and talented JEFF BOWEN (JeffreyBowenMusic.com). He portrays Garland's true-life musical accompanist MORT LINDSEY, and pinch-hits for MICKEY ROONEY. All of this is tied together with a shining musical ribbon running passionately through it - the songs that JUDY was known for.
"Remembering...An Evening With Judy Garland" premiered on June 22, 1999 at Nashville's Bongo Java. It was precisely the 30th anniversary of her death. Since that performance, the show grew through Special performances in Theaters & events around the country.
Connie is also known for performing variations of this Original Show, adapting to time & venues to fit the occasion. The following intimate 'Online Holliday Greeting' is one close to her heart:

Connie's Heartfelt Intent is to touch the audience with the very essence and soul of Judy Garland. She has done, and continues to do extensive research on the life and music of Judy, honoring this Legendary American Treasure.
---